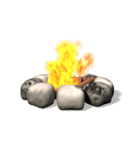 [Beep Beep] Bob's phone reminded him that it was time for the remote coaching session with Leslie, one of the CHIPs (community of healthcare improvement science practitioners). He flipped open his laptop and logged in. Leslie was already there.
<Leslie> Hi Bob.  I hope you had a good Xmas.
<Bob> Thank you Leslie. Yes, I did. I was about to ask the same question.
<Leslie> Not so good here I am afraid to say. The whole urgent care system is in meltdown. The hospital is gridlocked, the 4-hour target performance has crashed like the Stock Market on Black Wednesday, emergency admissions have spilled over into the Day Surgery Unit, hundreds of operations have been cancelled, waiting lists are spiralling upwards and the fragile 18-week performance ceiling has been smashed. It is chaos. Dangerous chaos.
<Bob> Oh dear. It sounds as if the butterfly has flapped its wings. Do you remember seeing this pattern of behaviour before?
<Leslie> Sadly yes. When I saw you demonstrate the Save the NHS Game.  This is exactly the chaos I created when I attempted to solve the 4-hour target problem, and the chaos I have seen every doctor, manager and executive create when they do too. We seem to be the root cause!
<Bob> Please do not be too hard on yourself Leslie. I am no different. I had to realise that I was contributing to the chaos I was complaining about, by complaining about it. Paradoxically not complaining about it made no difference. My error was one of omission. I was not learning. I was stuck in a self-justifying delusional blame-bubble of my own making. My humility and curiosity disabled by my disappointment, frustration and anxiety. My inner chimp was running the show!
<Leslie> Wow! That is just how everyone is feeling and behaving. Including me. So how did you escape from the blame-bubble?
<Bob> Well first of all I haven't completely escaped. I just spend less time there. It is always possible to get sucked back in. The way out started to appear when I installed a "learning loop".
<Leslie> A what? Is that  like a hearing loop for the partially deaf?
<Bob> Ha! Yes! A very apt metaphor.  Yes, just like that. Very good. I will borrow that if I may.
<Leslie> So what did your learning loop consist of?
<Bob> A journal.  I started a journal. I invested a few minutes each day reflecting and writing it down. The first entries were short and rather "ranty". I cannot possibly share them in public. It is too embarrassing. But it was therapeutic and over time the anger subsided and a quieter, calmer inner voice could be heard. The voice of curiosity. It was asking one question over and over again. "How?" … not "Why?".
<Leslie> Like "How did I get myself into this state?"
<Bob> Exactly so.  And also "How come I cannot get myself out of this mess?"
<Leslie> And what happened next?
<Bob> I started to take more notice of things that I had discounted before. Apparently insignificant things that I discovered had profound implications. Like the "butterflies wing" effect … I discovered that small changes can have big effects.  I also learned to tune in to specific feelings because they were my warning signals.
<Leslie> Niggles you mean?
<Bob> Yes. Niggles are flashes of negative emotion that signal a design flaw. They are usually followed by an untested assumption, an invalid conclusion, an unwise decision and a counter-productive action. It all happens unconsciously and very fast so we are only aware of the final action – the MR ANGRY reply to the email that we stupidly broadcast via the Reply All button!
<Leslie> So you learned to tune into the niggle to avoid the chain reaction that led to hitting the Red Button.
<Bob> Sort of. What actually happened is that the passion unleashed by the niggle got redirected into a more constructive channel – via my Curiosity Centre to power up the Improvement Engine. It was a bit rusty! It had not been used for a long while.
<Leslie> And once the "engine" was running it sucked in niggles that were now a source of fuel! You started harvesting them using the 4N Chart! So what was the output?
<Bob> Purposeful, focused, constructive, rational actions. Not random, destructive, emotional explosions.
<Leslie> Constructive actions such as?
<Bob> Well designing and building the FISH course is one, and this ISP programme is another.
<Leslie> More learning loops!
<Bob> Yup.
<Leslie> OK. So I can see that a private journal can help an individual to build their own learning loop. How does that work with groups? We do not all need to design and build a FISH-equivalent surely!
<Bob> No indeed. What we do is we share stories. We gather together in small groups around camp fires and we share what we are learning … as we are learning it. We contribute our perspective to the collective awareness … and we all gain from everyone's learning. We learn and teach together.
<Leslie> So the stories are about what we are learning, not what we achieved with that learning.
<Bob> Well put! The "how" we achieved it is more valuable knowledge than "what" we achieved. The "how" is the process, the "what" is just the product. And the "how" we failed to achieve is even more valuable.
<Leslie> Wow! So are you saying that the chaos we are experiencing is the expected effect of not installing enough learning loops! A system-wide error of omission.
<Bob> I would say that is a reasonable diagnosis.
<Leslie> So a rational and reasonable course of treatment becomes clear.  I am on the case!