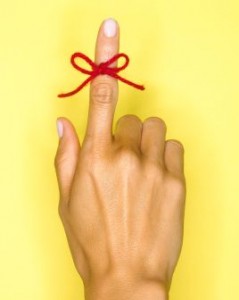 How do we remember the vast amount of information that we seem to be capable of?
Our brains are comprised of billions of cells most of which are actually inactive and just there to support the active brain cells – the neurons.
Suppose that the active brain cell part is 50% and our brain has a volume of about 1.2 litres or 1,200 cu.cm or 1,200,000 cu.mm. We know from looking down a microscope that each neuron is about 20/1,000 mm x 20/1,000 mm  x 20/1,000 mm which gives a volume of 8/1,000,000 cu.mm or 125,000 neurons for every cu.mm. The population of a medium sized town in a grain of salt!  This is a concept we can just about grasp. And with these two facts we estimate that there are in the order of 140,000,000,000 neurons in a human brain – 140 billion – about 20 times the population of the whole World. Wow!
But even that huge number is less than the size of the memory on the hard disc of the computer I am writing this blog on – which has 200 gigabytes which is 1,600 gigabits which is 1,600 billion bits. Ten times as many memory cells as there are neurons in a human brain. 
But our brains are not just for storing data – they do all the data processing too – it is an integrated processor-and-memory design completely unlike the separate processor-or-memory design of a digital computer.  Each of our brains is remarkable in its capability, adaptability, and agility – its ability to cope with change – its ability to learn and to change its behaviour while still working.  So how does our biological memory work?
Well not like a digital computer where the zeros and ones, the binary digits (bits) are stored in regular structure of memory cells – a static structural memory – a data prison.  Our biological memory works in a completely different way – it is a temporal memory – it is time dependent. Our memories are not "recalled" like getting a book out of an indexed slot on a numbered in a massive library; are memories are replayed like a recording or rebuilt from a recipe. Time is the critical factor and this concept of temporal memory is a feature of all systems.
And that is not all – the temporal memory is not a library of video tapes – it is the simultaneous collective action of many parts of the system that create the illusion of the temporal memory – we have a parallel-distributed-temporal-memory. More like a video hologram. And it means we cannot point to the "memory" part of our brains – it is distributed throughout the system – and this means that the connections between the parts are as critical a part of the design and the parts themselves. It is a tricky concept to grasp and none of the billions of digital computers that co-inhabit this planet operate this way. They are feeble and fragile in comparison. An inferior design.
The terms distributed-temporal or systemic-memory are a bit cumbersome though so we need a new label – let us call it a systemory.  The properties of a systemory are remarkable – for example it still works when a bit of the systemory is removed.  When a bit of your brain is removed you don't "forget" a bit of your name or lose the left ear on the mental picture of your friends face – as would happen with a computer.  A systemory is resilient to damage which is a necessary design-for-survival. It also implies that we can build our systemory with imperfect parts and incomplete connections. In a digital computer this would not work: the localised-static or silo-memory has to be perfect because if a single bit gets flipped or a single wire gets fractured it can render the whole computer inoperative useless junk.
Another design-for-survival property of a systemory is that it still works even when it is being changed – it is continuously adaptable and updateable.  Not so a computer – to change the operating system the computer has to be stopped, the old program overwritten by the new one, then the new one started. In fact computers are designed to prevent programs modifying themselves – because it a sure recipe for a critical system failure – the dreaded blue screen!
So if we map our systemory concept across from person to population and we replace neurons with people then we get an inkling of how a society can have a collective memory, a collective intelligence, a collective consciousness even – a social systemory. We might call that property the culture.  We can also see that the relationships that link the people are as critical as the people themselves and that both can be imperfect yet we get stable and reliable behaviour. We can also see that influencing the relationships between people has as much effect on the system behaviour as how the people themselves perform – because the properties of the systemory are emergent. Culture is an output not an input.
So in the World – the development of global communication systems means that all 7 billion people in the global social systemory can, in principle, connect to each other and can collectively learn and change faster and faster as the technology to connect more widely and more quickly develops. The rate of culture change is no longer governed by physical constraints such as geographic location, orand temporal constraints such as how long a letter takes to be delivered.
Perhaps the most challenging implication is that a systemory does not have a "point of control" – there is no librarian who acts as a gatekeeper to the data bank, no guard on the data prison.  The concept of "control" in a systemory is different – it is global not local – and it is influence not control.  The rapid development of mobile communication technology and social networking gives ample evidence – we would now rather communicate with a familar on the other side of the world than with a stranger standing next to us in the lunch queue. We have become tweeting and texting daemons.  Our emotional relationships are more important than our geographical ones. And if enough people can connect to each other they can act in a collective, coordinated, adaptive and agile way that no command-and-control system can either command or control. The recent events in the Middle East are ample evidence of the emergent effectiveness of a social systemory.
Our insight exposes a weakness of a social systemory – it is possible to adversely affect the whole by introducing a behavioural toxin that acts at the social connection level – on the relationships between people. The behavioural toxin needs only to have a weak and apparently harmless effect but when disseminated globally the cumulative effect creates cultural dysfunction.  It is rather like the effect of alcohol and other recreational chemical substances on the brain – it cause a temporary systemory dysfunction – but one that in an over-stressed psychological system paradoxically results in pleasure; or rather stress release. Hence the self-reinforcing nature of the addiction.  
Effective leaders are intuitively aware that just their behaviour can be a tonic or a toxin for the whole system: organisations are the the same emotional boat as their leader.
Effective leaders use their behaviour to steer the systemory of the organisation along a path of improvement and their behaviour is the output of their personal systemory.
Leaders have to be the change that they want their organisations to achieve.