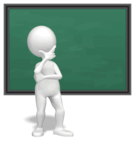 If it takes five machines five minutes to make five widgets how long does it take ten machines to make ten widgets?
If the answer "ten minutes" just popped into your head then your intuition is playing tricks on you. The correct answer is "five minutes".
Let us try another.
If the lily leaves on the surface of a lake double in area every day and if it takes 48 days to cover the whole lake then how long did it take to cover half the lake?  Twenty four days? Nope. The correct answer is 47 days and once again our intuition has tricked us. It is obvious in hindsight though – just not so obvious before.
We all make thousands of unconscious, intuitive decisions every day so if we make unintended errors like this then they must be happening all the time and we do not realise. 
OK one more and really concentrate this time.
If we have a three-step sequential process and the chance of a significant safety error at each step is 10%, 30% and 20% respectively then what is the overall error rate for the process?  A: (10%+30%+20%) /3 = 60%/3 = 20%? Nope. Um 30%? Nope. What about 60%?  Nope. The answer is 49.6%. And it is not intuitively obvious how that is the correct answer.
---
When it comes to numbers, counting, and anything to do with chance and probability then our intuition is not a safe and reliable tool. But we rely on it all the time and we are not aware of the errors we are making. And it is not just numbers that our intuition trips us up over!
---
A lot of us are intuitive thinkers … about 40% in fact. The majority of leaders and executives are categorised as iNtuitors when measured using a standard psychological assessment tool. And remember – they are the ones making the Big Decisions that effect us all.  So if their intuition is tripping them up then their decisions are likely to be a bit suspect.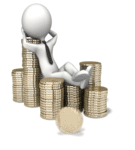 Fortunately there is a group of people who do not fall into these hidden cognitive counting traps so easily. They have Books of Rules of how to do numbers correctly – and they are called Accountants. When they have the same standard assessment a lot of them pop up at the other end of the iNtuitor dimension. They are called Sensors.   Not because they are sensitive (which of course they are) but because they rank reality more trustworthy than rhetoric. They trust what they see – the facts – the numbers.  And money is a number. And numbers  add up exactly so that everything is neat, tidy, and auditable down to the last penny. Ahhhh – Blisse is Balanced Books and Budgets.  
---
This is why the World is run by Accountants.  They nail our soft and fuzzy intuitive rhetoric onto the hard and precise fiscal reality.  And in so doing a big and important piece of the picture is lost. The fuzzy bit,
---
Intuitors have a very important role. They are able to think outside the Rule Book Box. They are comfortable working with fuzzy concepts and in abstract terms and their favourite sport is intuitive leaping. It is a high risk sport though because sometimes Reality reminds them that the Laws of Physics are not optional or subject to negotiation and innovation. Ouch!  But the iNtuitors ability to leap about conceptuallycomes in very handy when the World is changing unpredictably – because it allows the Books of Rules to be challenged and re-written as new discoveries are made. The first Rule is usually "Do not question the Rules" so those who follow Rules are not good at creating new ones. And those who write the rules are not good at sticking to them.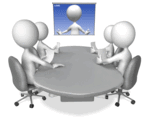 So, after enough painful encounters with Reality the iNtuitors find their comfort zones in board rooms, academia and politics – where they can avoid hard Reality and concentrate on soft Rhetoric. Here they can all have a different conceptual abstract mental model and can happily discuss, debate and argue with each other for eternity. Of course the rest of the Universe is spectacularly indifferent to board room, academic and political rhetoric – but the risk to the disinterested is when the influential iNtuitors impose their self-generated semi-delusional group-think on the Real World without a doing a Reality Check first.  The outcome is entirely predictable ….
And as the hot rhetoric meets cold reality the fog of disillusionment forms. 
---
So if we wish to embark on a Quest for Improvement then it is really helpful to know where on the iNtuitor-Sensor dimension each of us prefers to sit. Intuitors need Sensors to provide a reality check and Sensors need Intuitors to challenge the status quo.  We are not nailed to our psychological perches – we can shuffle up and down if need be – we do have a favourite spot though; our comfort zone.
To help answer the "Where am I on the NS dimension?" question here is a  Temperament Self-Assessment Tool that you can use. It is based on the Jungian, Myers-Briggs and Keirsey models. Just run the programme, answer the 72 questions and you will get your full 4-dimensional profile and your "centre" on each. Then jot down the results on a scrap of paper. 
There is a whole industry that has sprung up out these (and other) psychological assessment tools. They feed our fascination with knowing what makes us tick and the role of the psychoexpert is to de-mystify the assessments for us and to explain the patterns in the tea leaves (for a fee of course because it takes years of training to become a Demystifier). Disappointingly, my experience is that almost every person I have asked if they know their Myers-Briggs profile say "Oh yes, I did that years ago, it is SPQR or something like that but I have no idea what it means".  Maybe they should ask for their Demystification Fee to be returned?
Anyway – here is the foundation level demystification guide to help you derive meaning from what is jotted on the scrap of paper.
First look at the N-S (iNtuitor-Sensor) dimension.  If you come out as N then look at the T-F (Thinking-Feeling) dimension – and together they will give an xNTx preference or an xNFx preference. People with these preferences are called Rationals and Idealists respectively.  If you prefer the S end of the N-S dimension then look at the J-P (Judging-Perceiving) result and this will give an xSxJ or xSxP preference. These are the Guardians and the Artisans.  Those are the Four Temperaments described by David Keirsey in "Please Understand Me II". If you are near the middle of any of the dimensions then you will show a blend of temperaments. And please note – it is not an either-or category – it is a continuous spectrum.
How we actually manifest our innate personality preferences depends on our education, experiences and the exact context. This makes it a tricky to interpret the specific results for an individual – hence the Tribe of Demystificationists. And remember – these are not intelligence tests, and there are no good/bad or right/wrong answers. They are gifts – or rather gifts differing. 
---
So how does all this psychobabble help us as Improvement Scientists?
Much of Improvement Science is just about improving awareness and insight – so insight into ourselves is of value.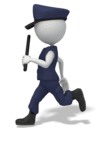 Rationals (xNTx) are attracted to occupations that involve strategic thinking and making rational, evidence based decisions: such as engineers and executives. The Idealists (xNFx) are rarer, more sensitive, and attracted to occupations such as teaching, counselling, healing and being champions of good causes.  The Guardians (xSxJ) are particularly numerous and are attracted to occupations that form the stable bedrock of society – administrators, inspectors, supervisors, providers and protectors. They value the call-of-duty and sticking-to-the-rules for the good-of-all. Artisans (SPs) are the risk-takers and fun-makers; the promotors, the entertainers, the explorers, the dealers, the artists, the marketeers and the salespeople.
These are the Four Temperaments that form the basic framework of the sixteen Myers-Briggs polarities.  And this is not a new idea – it has been around for millenia – just re-emerging with different names in different paradigms. In the Renaissance the Galenic Paradigm held sway and they were called the Phlegmatics (NT), the Cholerics (NF), the Melancholics (SJ) and the Sangines (SP) – depending on which of the four body fluids were believed to be out of balance (phlegm, yellow bile, black bile or blood). So while the paradigms have changed, the empirical reality appears to have endured the ages.
The message for the Improvement Scientist is two-fold:
1. Know your own temperament and recognise the strengths and limitations of it. They all have a light and dark side.
2. Understand that the temperaments of groups of people can be both synergistic and antagonistic.
It is said that birds of a feather flock together and the collective behaviour of departments in large organisations tend to form around the temperament that suits that organisational function.  The character of the Finance department is usually very different to that of Operations, or Human Resources – and sparks can (and do) fly when they engage each other. No wonder chief executives have a short half-life and an effective one is worth its weight in gold! 
The interdepartmental discord that is commonly observed in large organisations follows more from ignorance (unawareness of the reality of a spectrum of innate temperaments) and arrogance (expecting everyone to think the same way as we do). Antagonism is not an inevitable consequence though – it is just the default outcome in the absence of awareness and effective leadership.
This knowledge highlights two skills that an effective Improvement Scientist needs to master:
1. Respectful Educator (drawing back the black curtain of ignorance) and
2. Respectful Challenger (using reality to illuminate holes in the rhetoric).
Intuitive counter or counter intuitive?