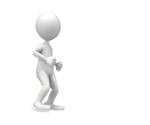 There is an F-word that organisations do not like to use – except maybe in conspiratorial corridor conversations.
What word might that be? What are good candidates for it?
Finance perhaps?
Certainly a word that many people do not want to utter – especially when the financial picture is not looking very rosy. And when the word finance is mentioned in meetings there is usually a groan of anguish. So yes, finance is a good candidate – but it is not the F-word.
Failure maybe?
Yes – definitely a word that is rarely uttered openly. The concept of failure is just not acceptable. Organisations must succeed, sustain and grow. Talk of failure is for losers not for winners. To talk about failure is tempting fate. So yes, another excellent candidate – but it is not the F-word.
OK – what about Fear?
That is definitely something no one likes to admit to.  Especially leaders. They are expected to be fearless. Fear is a sign of weakness! Once you start letting the fear take over then panic starts to set in – then rash decisions follow then you are really on the slippery slope. Your organisation fragments into warring factions and your fate is sealed. That must be the F-word!
Nope.  It is another very worthy candidate but it is not the F-word.
---
Click here to reveal the F-word
---
The dreaded F-word is Feedback.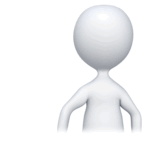 We do not like feedback.  We do not like asking for it. We do not like giving it. We do not like talking about it. Our systems seem to be specifically designed to exclude it. Potentially useful feedback information is kept secret, confidential, for-our-eyes only.  And if it is shared it is emasculated and anonymized.
And the brave souls who are prepared to grasp the nettle – the 360 Feedback Zealots – are forced to cloak feedback with secrecy and confidentiality. We are expected to ask  for feedback, to take it on the chin, but not to know who or where it came from. So to ease the pain of anonymous feedback we are allowed to choose our accusers. So we choose those who we think will not point out our blindspot. Which renders the whole exercise worthless.
And when we actually want feedback we extract it mercilessly – like extracting blood from a reluctant stone. And if you do not believe me then consider this question: Have you ever been to a training course where your 'certificate of attendance' was with-held until you had completed the feedback form? The trainers do this for good reason. We just hate giving feedback. Any feedback. Positive or negative. So if they do not extract it from us before we leave they do not get any.
Unfortunately by extracting feedback from us under coercion is like acquiring a confession under torture – it distorts the message and renders it worthless.
What is the problem here?  What are we scared of?
---
We all know the answer to the question.  We just do not want to point at the elephant in the room.
We are all terrified of discovering that we have the organisational equivalent of body-odour. Something deeply unpleasant about our behaviour that we are blissfully unaware of but that everyone else can see as plain as day. Our behaviour blindspot. The thing we would cringe with embarrassment about if we knew. We are social animals – not solitary ones. We need on feedback yet we fear it too.
We lack the courage and humility to face our fear so we resort to denial. We avoid feedback like the plague. Feedback becomes the F-word.
But where did we learn this feedback phobia?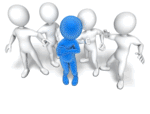 Maybe we remember the playground taunts from the Bullies and their Sychophants? From the poisonous Queen-Bees and their Wannabees?  Maybe we tried to protect ourselves with incantations that our well-meaning parents taught us. Spells like "Sticks and stones may break my bones but names will never hurt me".  But being called names does hurt. Deeply. And it hurts because we are terrified that there might be some truth in the taunt.
Maybe we learned to turn a blind-eye and a deaf-ear; to cross the street at the first sign of trouble; to turn the other cheek? Maybe we just learned to adopt the Victim role? Maybe we were taught to fight back? To win at any cost? Maybe we were not taught how to defuse the school yard psycho-games right at the start?  Maybe our parents and teachers did not know how to teach us? Maybe they did not know themselves?  Maybe the 'innocent' schoolyard games are actually much more sinister?  Maybe we carry them with us as habitual behaviours into adult life and into our organisations? And maybe the bullies and Queen-Bees learned something too? Maybe they learned that they could get away with it? Maybe they got to like the Persecutor role and its seductive musk of power? If so then then maybe the very last thing the Bullies and Queen-Bees will want to do is to encourage open, honest feedback – especially about their behaviour. Maybe that is the root cause of the conspiracy of silence? Maybe?
But what is the big deal here?
The 'big deal' is that this cultural conspiracy of silence is toxic.  It is toxic to trust. It is toxic to teams. It is toxic to morale.  It is toxic to motivation. It is toxic to innovation. It is toxic to improvement. It is so toxic that it kills organisations – from the inside. Slowly.
Ouch! That feels uncomfortably realistic. So what is the problem again – exactly?
The problem is a deliberate error of omission – the active avoidance of feedback.
So ….. if it were that – how would we prove that is the root cause? Eh?
By correcting the error of omission and then observing what happens.
---
And this is where it gets dangerous for leaders. They are skating on politically thin ice and they know it.
Subjective feedback is very emotive.  If we ask ten people for their feedback on us we will get ten different replies – because no two people perceive the world (and therefore us) the same way.  So which is 'right'? Which opinions do we take heed of and which ones do we discount? It is a psycho-socio-political minefield. So no wonder we avoid stepping onto the cultural barbed-wire!
There is an alternative.  Stick to reality and avoid rhetoric. Stick to facts and avoid feelings. Feed back the facts of how the organisational system is behaving to everyone in the organisation.
And the easiest way to do that is with three time-series charts that are updated and shared at regular and frequent intervals.
First – the count of safety and quality failure near-misses for each interval – for at least 50 intervals.
Second – the delivery time of our product or service for each customer over the same time period.
Third – the revenue generated and the cost incurred for each interval for the same 50 intervals.
No ratios, no targets, no balanced scorecard.
Just the three charts that paint the big picture of reality. And it might not be a very pretty picture.
But why at least 50 intervals?
So we can see the long term and short term variation over time. We need both … because …
Our Safety Chart shows that near misses keep happening despite all the burden of inspection and correction.
Our Delivery Chart shows that our performance is distorted by targets and the Horned Gaussian stalks us.
Our Viability Chart shows that our costs are increasing as we pay dearly for past mistakes and our revenue is decreasing as our customers protect their purses and their persons by staying away.
That is the not-so-good news.
The good news is that as soon as we have a multi-dimensional-frequent-feedback loop installed we will start to see improvement. It happens like magic. And the feedback accelerates the improvement.
And the news gets better.
To make best use of this frequent feedback we just need to include in our Constant Purpose – to improve safety, delivery and viability. And then the final step is to link the role of every person in the organisation to that single win-win-win goal. So that everyone can see how they contribute and how their job is worthwhile.
Shared Goals, Clear Roles and Frequent Feedback.
And if you resonate with this message then you will resonate with "The Three Signs of  Miserable Job" by Patrick Lencioni.
And if you want to improve your feedback-ability then a really simple and effective feedback tool is The 4N Chart
And please share your feedback.