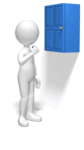 Improvement implies change.
Change requires motivation.
And there are two flavours of motivation juice – Fear and Fuel
Fear is the emotion that comes from anticipated loss in the future.  Loss means some form of damage. Physical, psychological or social harm.  We fear loss of peer-esteem and we fear loss of self-esteem … almost more than we fear physical harm.
Our fear of anticipated loss may be based on reality. Our experience of actual loss in the past.  We remember the emotional pain and we learn from past pain to fear future loss.
Our fear of anticipated loss may also be fueled by rhetoric.  The doom-mongering of the Shroud-Wavers, the Nay-Sayers, the Skeptics and the Cynics.
---
And there are examples where the rhetorical fear is deliberately generated to drive the fear-of-reality to "the solution" – which of course we have to pay dearly for. This is Machiavellian mass manipulation for commercial gain.
"Fear of germs, fear of fatness, fear of the invisible enemies outside and inside".
Generating and ameliorating fear is big business. It is a Burn-and-Scrape design.
What we are seeing here is the Drama Triangle operating on a massive scale. The Persecutors create the fear, the Victims run away and the Persecutors then switch role to Rescuers and offer to sell the terrified-and-now-compliant Victims "the  solution" to their fear.  The Victims do not learn.  That is not the purpose – because that would end the Game and derail the Gravy Train.
---
So fear is not an effective way to motivate for sustained improvement,  and we have ample evidence to support that statement!  It might get us started, but it won't keep us going.
The Burn-and-Scrape design that we see everywhere is a fear-driven-design.
Any improvements are transitory and usually only achieved at the emotional expense of a passionate idealist. When they get too tired to push any more the toast gets burnt again because the toaster is perfectly designed to burn toast.  Not intentionally designed to burn the toast but perfectly designed to nevertheless.
The use of Delusional Ratios and Arbitrary Targets (DRATs) is a fear-based-design-strategy. It ensures the Fear Game and Gravy Train continue.
And fear has a frightening cost. The cost of checking-and-correcting. The cost of the defensive-bureaucracy that may catch errors before too much local harm results but which itself creates unmeasurable global harm in a different way – by hoovering up the priceless human resource of life-time – like an emotional black hole.
The cost of errors. The cost of queues. The list of fear-based-design costs is long.
A fear-based-design for delivering improvement is a poor design.
---
So we need a better design.
---
And a better one is based on a positive-attractive-emotional force pulling us forwards into the future. The anticipation of gains for all. A win-win-win design.
Win-win-win design starts with the Common Purpose: the outcomes that everyone wants; and the outcomes that no-one wants.  We need both.  This balance creates alignment of effort on getting the NiceIfs (the wants) while avoiding the NoNos (the do not wants).
Then we ask the simple question: "What is preventing us having our win-win-win outcome now?"
The blockers are the parts of our current design that we need to change: our errors of omission and our errors of commission.  Our gaps and our gaffes.
And to change them we need to be clear what they are; where they are and how they came to be there … and that requires a diagnostic skill that is one of our errors of omission. We have never learned how to diagnose our process design flaws.
Another common blocker is that we believe that a win-win-win outcome is impossible. This is a learned belief. And it is a self-fulfilling prophesy.
We may also believe that all swans are white because we have never seen a black swan – even though we know, in principle, that a black swan could be possible.
Rhetoric and Reality are not the same thing.  Feeling it could be possible and knowing that it actually is possible are different emotions. We need real evidence to challenge our life-limiting rhetoric.
Weary and wary skeptics crave real evidence not rhetorical exhortation.
So when that evidence is presented – and the Impossibility Hypothesis is disproved – then an emotional shock is inevitable.  We are now on the emotional roller-coaster called the Nerve Curve.  And the deeper our skepticism the bigger the shock.
---
After the shock we characteristically do one of three things:
1. We discount the evidence and go into denial.  We refuse to challenge our own rhetoric. Blissful ignorance is attractive.  The gap between intent and impact is scary.
2. We go quiet because we are now stuck in the the painful awareness of the transition zone between the past and the future. The feelings associated with the transition are anxiety and depression. We don't want to go back and we don't know how to go forwards.
3. We sit up, we take notice, we listen harder, we rub our chins, our minds race as we become more and more excited. The feelings associated with the stage of resolution are curiosity, excitement and hope.
It is actually a sequence and it is completely normal.
---
And those who reach Stage 3 of the Nerve Curve say things like "We have food for thought;  we feel inspired; our passion is re-ignited; we now have a beacon of hope for the future."
That is the flavour of motivation-juice that is needed to fuel the improvement-by-design engine and to deliver win-win-win designs that are both surprising and self-sustaining.
And what actually changes our belief of what is possible is when we learn to do it for ourselves. For real.
That is Improvement Science in action. It is a pragmatic science.