Sat 5th October
It started with a tweet.
08:17 [JG] The NHS is its people. If you lose them, you lose the NHS.
09:15 [DO] We are in a PEOPLE business – educating people and creating value.
Sun 6th October
08:32 [SD] Who isn't in people business? It is only people who buy stuff. Plants, animals, rocks and machines don't.
09:42 [DO] Very true – it is people who use a service and people who deliver a service and we ALL know what good service is.
09:47 [SD] So onus is on us to walk our own talk. If we don't all improve our small bits of the NHS then who can do it for us?
Then we were off … the debate was on …
10:04 [DO] True – I can prove I am saving over £160 000.00 a year – roll on PBR !?
10:15 [SD] Bravo David. I recently changed my surgery process: productivity up by 35%. Cost? Zero. How? Process design methods.
11:54 [DO] Exactly – cost neutral because we were thinking differently – so how to persuade the rest?
12:10 [SD] First demonstrate it is possible then show those who want to learn how to do it themselves. http://www.saasoft.com/fish/course
We had hard evidence it was possible … and now MC joined the debate …
12:48 [MC] Simon why are there different FISH courses for safety, quality and efficiency? Shouldn't good design do all of that?
12:52 [SD] Yes – goal of good design is all three. It just depends where you are starting from: Governance, Operations or Finance.
A number of parallel threads then took off and we all had lots of fun exploring  each others knowledge and understanding.
17:28 MC registers on the FISH course.
And that gave me an idea. I emailed an offer – that he could have a complimentary pass for the whole FISH course in return for sharing what he learns as he learns it.  He thought it over for a couple of days then said "OK".
Weds 9th October
06:38 [MC] Over the last 4 years of so, I've been involved in incrementally improving systems in hospitals. Today I'm going to start an experiment.
06:40 [MC] I'm going to see if we can do less of the incremental change and more system redesign. To do this I've enrolled in FISH
Fri 11th October
06:47 [MC] So as part of my exploration into system design, I've done some studies in my clinic this week. Will share data shortly.
21:21 [MC] Here's a chart showing cycle time of patients in my clinic. Median cycle time 14 mins, but much longer in 2 pic.twitter.com/wu5MsAKk80
21:22 [MC] Here's the same clinic from patients' point if view, wait time. Much longer than I thought or would like pic.twitter.com/iVLTDsbG8m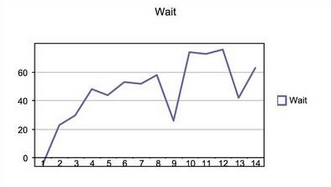 21:24 [MC] Two patients needed to discuss surgery or significant news, that takes time and can't be rushed.
21:25 [MC] So, although I started on time, worked hard and finished on time. People were waited ages to see me. Template is wrong!
21:27 [MC] By the time I had seen the the 3rd patient, people were waiting 45 mins to see me. That's poor.
21:28 [MC] The wait got progressively worse until the end of the clinic.
Sunday 13th October
16:02 [MC] As part of my homework on systems, I've put my clinic study data into a Gantt chart. Red = waiting, green = seeing me pic.twitter.com/iep2PDoruN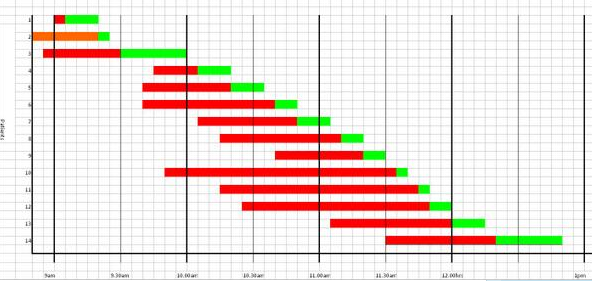 16:34 [SD] Hurrah! The visual power of the Gantt Chart. Worth adding the booked time too – there are Seven Sins of Scheduling to find.
16:36 [SD] Excellent – good idea to sort into booked time order – it makes the planned rate of demand easier to see.
16:42 [SD] Best chart is Work In Progress – count the number of patients at each time step and plot as a run chart.
17:23 [SD] Yes – just count how many lines you cross vertically at each time interval. It can be automated in Excel
17:38 [MC] Like this? pic.twitter.com/fTnTK7MdOp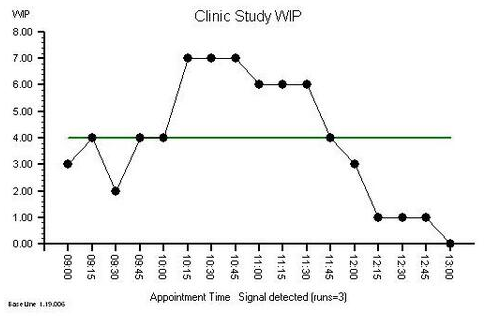 This is the work-in-progress chart. The most useful process monitoring chart of all. It shows the changing size of the queue over time.  Good flow design is associated with small, steady queues.
18:22 [SD] Perfect! You're right not to plot as XmR – this is a cusum metric. Not a healthy WIP chart this!
There was more to follow but the "ah ha" moment had been seen and shared.
Weds 16th October
MC completes the Online FISH course and receives his well-earned Certificate of Achievement.
This was his with-the-benefit-of-hindsight conclusion:
I wish I had known some of this before. I will have totally different approach to improvement projects now. Key is to measure and model well before doing anything radical.
Improvement Science works.
Improvement-by-Design is a skill that can be learned quickly.
FISH is just a first step.