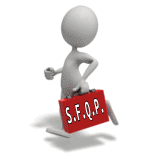 [Dring] Bob's laptop signaled the arrival of Leslie for their regular ISP remote coaching session.
<Bob> Hi Leslie. Thanks for emailing me with a long list of things to choose from. It looks like you have been having some challenging conversations.
<Leslie> Hi Bob. Yes indeed! The deepening gloom and the last few blog topics seem to be polarising opinion. Some are claiming it is all hopeless and others, perhaps out of desperation, are trying the FISH stuff for themselves and discovering that it works.  The 'What Ifs' are engaged in war of words with the 'Yes Buts'.
<Bob> I like your metaphor! Where would you like to start on the long list of topics?
<Leslie> That is my problem. I do not know where to start. They all look equally important.
<Bob> So, first we need a way to prioritise the topics to get the horse-before-the-cart.
<Leslie> Sounds like a good plan to me!
<Bob> One of the problems with the traditional improvement approaches is that they seem to start at the most difficult point. They focus on 'quality' first – and to be fair that has been the mantra from the gurus like W.E.Deming. 'Quality Improvement' is the Holy Grail.
<Leslie>But quality IS important … are you saying they are wrong?
<Bob> Not at all. I am saying that it is not the place to start … it is actually the third step.
<Leslie>So what is the first step?
<Bob> Safety. Eliminating avoidable harm. Primum Non Nocere. The NoNos. The Never Events. The stuff that generates the most fear for everyone. The fear of failure.
<Leslie> You mean having a service that we can trust not to harm us unnecessarily?
<Bob> Yes. It is not a good idea to make an unsafe design more efficient – it will deliver even more cumulative harm!
<Leslie> OK. That makes perfect sense to me. So how do we do that?
<Bob> It does not actually matter.  Well-designed and thoroughly field-tested checklists have been proven to be very effective in the 'ultra-safe' industries like aerospace and nuclear.
<Leslie> OK. Something like the WHO Safe Surgery Checklist?
<Bob> Yes, that is a good example – and it is well worth reading Atul Gawande's book about how that happened – "The Checklist Manifesto".  Gawande is a surgeon who had published a lot on improvement and even so was quite skeptical that something as simple as a checklist could possibly work in the complex world of surgery. In his book he describes a number of personal 'Ah Ha!' moments that illustrate a phenomenon that I call Jiggling.
<Leslie> OK. I have made a note to read Checklist Manifesto and I am curious to learn more about Jiggling – but can we stick to the point? Does quality come after safety?
<Bob> Yes, but not immediately after. As I said, Quality is the third step.
<Leslie> So what is the second one?
<Bob> Flow.
There was a long pause – and just as Bob was about to check that the connection had not been lost – Leslie spoke.
<Leslie> But none of the Improvement Schools teach basic flow science.  They all focus on quality, waste and variation!
<Bob> I know. And attempting to improve quality before improving flow is like papering the walls before doing the plastering.  Quality cannot grow in a chaotic context. The flow must be smooth before that. And the fear of harm must be removed first.
<Leslie> So the 'Improving Quality through Leadership' bandwagon that everyone is jumping on will not work?
<Bob> Well that depends on what the 'Leaders' are doing. If they are leading the way to learning how to design-for-safety and then design-for-flow then the bandwagon might be a wise choice. If they are only facilitating collaborative agreement and group-think then they may be making an unsafe and ineffective system more efficient which will steer it over the edge into faster decline.
<Leslie>So, if we can stabilize safety using checklists do we focus on flow next?
<Bob>Yup.
<Leslie> OK. That makes a lot of sense to me. So what is Jiggling?
<Bob> This is Jiggling. This conversation.
<Leslie> Ah, I see. I am jiggling my understanding through a series of 'nudges' from you.
<Bob>Yes. And when the learning cogs are a bit rusty, some Improvement Science Oil and a bit of Jiggling is more effective and much safer than whacking the caveman wetware with a big emotional hammer.
<Leslie>Well the conversation has certainly jiggled Safety-Flow-Quality-and-Productivity into a sensible order for me. That has helped a lot. I will sort my to-do list into that order and start at the beginning. Let me see. I have a plan for safety, now I can focus on flow. Here is my top flow niggle. How do I design the resource capacity I need to ensure the flow is smooth and the waiting times are short enough to avoid 'persecution' by the Target Time Police?
<Bob> An excellent question! I will send you the first ISP Brainteaser that will nudge us towards an answer to that question.
<Leslie> I am ready and waiting to have my brain-teased and my niggles-nudged!