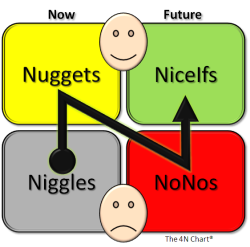 One of the essential components of an adaptive system is effective feedback.
Without feedback we cannot learn – we can only guess and hope.
So the design of our feedback loops is critical-to-success.
Many people do not like getting feedback because they live in a state of fear: fear of criticism. This is a learned behaviour.
Many people do not like giving feedback because they too live in a state of fear: fear of conflict. This is a learned behaviour.
And what is learned can be unlearned; with training, practice and time.
But before we will engage in unlearning our current habit we need to see the new habit that will replace it. The one that will work better for us. The one that is more effective.  The one that will require less effort. The one that is more efficient use of our most precious resource: life-time.
There is an effective and efficient feedback technique called The 4N Chart®.  And I know it works because I have used it and demonstrated to myself and others that  it works. And I have seen others use it and demonstrate to themselves and others that it works too.
The 4N Chart® has two dimensions – Time (Now and Future) and Emotion (Happy and Unhappy).
This gives four combinations each of which is given a label that begins with the letter 'N' – Niggles, Nuggets, NoNos and NiceIfs.
The N has a further significance … it reminds us which order to move through the  chart.
We start bottom left with the Niggles.  What is happening now that causes us to feel unhappy. What are these root causes of our niggles? And more importantly, which of these do we have control over?  Knowing that gives us a list of actions that we can do that will have the effect of reducing our niggles. And we can start that immediately because we do not need permission.
Next we move top-left to the Nuggets. What is happening now that causes us to feel happy? What are the root causes of our nuggets? Which of these do we control? We need to recognise these too and to celebrate them.  We need to give ourselves a pat on the back for them because that helps reinforce the habit to keep doing them.
Now we look to the future – and we need to consider two things: what we do not want to feel in the future and what we do want to feel in the future. These are our NoNos and our NiceIfs. It does not matter which order we do this … but  we must consider both.
Many prefer to consider dangers and threats first … that is SAFETY FIRST  thinking and is OK. First Do No Harm. Primum non nocere.
So with the four corners of our 4N Chart® filled in we have a balanced perspective and we can set off on the journey of improvement with confidence. Our 4N Chart® will help us stay on track. And we will update it as we go, as we study, as we plan and as we do things. As we convert NiceIfs into Nuggets and  Niggles into NoNos.
It sounds simple.  It is in theory. It is not quite as easy to do.
It takes practice … particularly the working backwards from the effect (the feeling) to the cause (the facts). This is done step-by-step using Reality as a guide – not our rhetoric. And we must be careful not to make assumptions in lieu of evidence. We must be careful not to jump to unsupported conclusions. That is called pre-judging.  Prejudice.
But when you get the hang of using The 4N Chart® you will be amazed at how much more easily and more quickly you make progress.