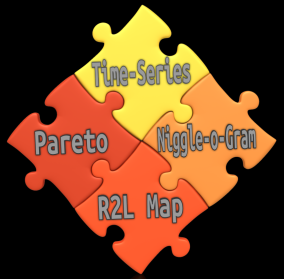 Systems are made of interdependent parts that link together – rather like a jigsaw.
If pieces are distorted, missing, or in the wrong place then the picture is distorted and the system does not work as well as it could.
And if pieces of one jigsaw are mixed up with those of another then it is even more difficult to see any clear picture.
A system of improvement is just the same.
There are many improvement jigsaws each of which have pieces that fit well together and form a synergistic whole. Lean, Six Sigma, and Theory of Constraints are three well known ones.
Each improvement jigsaw evolved in a different context so naturally the picture that emerges is from a particular perspective: such as manufacturing.
So when the improvement context changes then the familiar jigsaws may not work as well: such as when we shift context from products to services, and from commercial to public.
A public service such as healthcare requires a modified improvement jigsaw … so how do we go about getting that?
---
One way is to 'evolve' an old jigsaw into a new context. That is tricky because it means adding new pieces and changing old pieces and the 'zealots' do not like changing their familiar jigsaw so they resist.
Another way is to 'combine' several old jigsaws in the hope that together they will provide enough perspectives. That is even more tricky because now you have several tribes of zealots who resist having their familiar jigsaws modified.
What about starting with a blank canvas and painting a new picture from scratch? Well it is actually very difficult to create a blank canvas for learning because we cannot erase what we already know. Our current mental model is the context we need for learning new knowledge.
---
So what about using a combination of the above?
What about first learning a new creative approach called design? And within that framework we can then create a new improvement jigsaw that better suits our specific context using some of the pieces of the existing ones. We may need to modify the pieces a bit to allow them to fit better together, and we may need to fashion new pieces to fill the gaps that we expose. But that is part of the fun.
---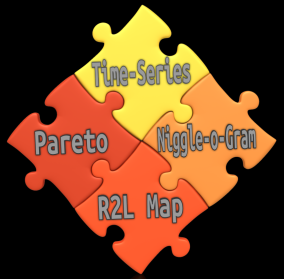 The improvement jigsaw shown here is a new hybrid.
It has been created from a combination of existing improvement knowledge and some innovative stuff.
Pareto analysis was described by Vilfredo Pareto over 100 years ago.  So that is tried and tested!
Time-series charts were invented by Walter Shewhart almost 100 years ago. So they are tried and tested too!
The combination of Pareto and Shewhart tools have been used very effectively for over 50 years. The combination is well proven.
The other two pieces are innovative. They have different parents and different pedigrees. And different purposes.
The Niggle-o-Gram® is related to 2-by-2, FMEA and EIQ and the 4N Chart®.  It is the synthesis of them that creates a powerful lens for focussing our improvement efforts on where the greatest return-on-investment will be.
The Right-2-Left Map® is a descendent of the Design family and has been crossed with Graph Theory and Causal Network exemplars to introduce their best features.  Its purpose is to expose errors of omission.
The emergent system is synergistic … much more effective than each part individually … and more even than their linear sum.
---
So when learning this new Science of Improvement we have to focus first on learning about the individual pieces and we do that by seeing examples of them used in practice.  That in itself is illuminating!
As we learn about more pieces a fog of confusion starts to form and we run the risk of mutating into a 'tool-head'.  We know about the pieces in detail but we still do not see the bigger picture.
To avoid the tool-head trap we must balance our learning wheel and ensure that we invest enough time in learning-by-doing.

Then one day something apparently random will happen that triggers a 'click'.  Familiar pieces start to fit together in a unfamiliar way and as we see the relationships, the sequences, and the synergy – then a bigger picture will start to emerge. Slowly at first and then more quickly as more pieces aggregate.
Suddenly we feel a big CLICK as the final pieces fall into place.  The fog of confusion evaporates in the bright sunlight of a paradigm shift in our thinking.
The way forward that was previously obscured becomes clearly visible.
Ah ha!
And we are off on the next stage  of our purposeful journey of improvement.