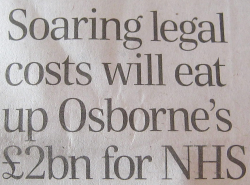 This heading in the the newspaper today caught my eye.
Reading the rest of the story triggered a strong emotional response: anger.
My inner chimp was not happy. Not happy at all.
So I took my chimp for a walk and we had a long chat and this is the story that emerged.
The first trigger was the eye-watering fact that the NHS is facing something like a £26 billion litigation cost.  That is about a quarter of the total NHS annual budget!
The second was the fact that the litigation bill has increased by over £3 billion in the last year alone.
The third was that the extra money will just fall into a bottomless pit – the pockets of legal experts – not to where it is intended, to support overworked and demoralised front-line NHS staff. GPs, nurses, AHPs, consultants … the ones that deliver care.
That is why my chimp was so upset.  And it sounded like righteous indignation rather than irrational fear.
---
So what is the root cause of this massive bill? A more litigious society? Ambulance chasing lawyers trying to make a living? Dishonest people trying to make a quick buck out of a tax-funded system that cannot defend itself?
And what is the plan to reduce this cost?
Well in the article there are three parts to this:
"apologise and learn when you're wrong,  explain and vigorously defend when we're right, view court as a last resort."
This sounds very plausible but to achieve it requires knowing when we are wrong or right.
How do we know?
---
Generally we all think we are right until we are proved wrong.
It is the way our brains are wired. We are more sure about our 'rightness' than the evidence suggests is justified. We are naturally optimistic about our view of ourselves.
So to be proved wrong is emotionally painful and to do it we need:
1) To make a mistake.
2) For that mistake to lead to psychological or physical harm.
3) For the harm to be identified.
4) For the cause of the harm to be traced back to the mistake we made.
5) For the evidence to be used to hold us to account, (to apologise and learn).
And that is all hunky-dory when we are individually inept and we make avoidable mistakes.
But what happens when the harm is the outcome of a combination of actions that individually are harmless but which together are not?  What if the contributory actions are sensible and are enforced as policies that we dutifully follow to the letter?
Who is held to account?  Who needs to apologise? Who needs to learn?  Someone? Anyone? Everyone? No one?
The person who wrote the policy?  The person who commissioned the policy to be written? The person who administers the policy? The person who follows the policy?
How can that happen if the policies are individually harmless but collectively lethal?
---
The error here is one of a different sort.
It is called an 'error of omission'.  The harm is caused by what we did not do.  And notice the 'we'.
What we did not do is to check the impact on others of the policies that we write for ourselves.
Example:
The governance department of a large hospital designs safety policies that if not followed lead to disciplinary action and possible dismissal.  That sounds like a reasonable way to weed out the 'bad apples' and the policies are adhered to.
At the same time the operations department designs flow policies (such as maximum waiting time targets and minimum resource utilisation) that if not followed lead to disciplinary action and possible dismissal.  That also sounds like a reasonable way to weed out the layabouts whose idleness cause queues and delays and the policies are adhered to.

And at the same time the finance department designs fiscal policies (such as fixed budgets and cost improvement targets) that if not followed lead to disciplinary action and possible dismissal. Again, that sounds like a reasonable way to weed out money wasters and the policies are adhered to.
What is the combined effect? The multiple safety checks take more time to complete, which puts extra workload on resources and forces up utilisation. As the budget ceiling is lowered the financial and operational pressures build, the system heats up, stress increases, corners are cut, errors slip through the safety checks. More safety checks are added and the already over-worked staff are forced into an impossible position.  Chaos ensues … more mistakes are made … patients are harmed and justifiably seek compensation by litigation.  Everyone loses (except perhaps the lawyers).

---
So why was my inner chimp really so unhappy?
Because none of this is necessary. This scenario is avoidable.
Reducing the pain of complaints and the cost of litigation requires setting realistic expectations to avoid disappointment and it requires not creating harm in the first place.
That implies creating healthcare systems that are inherently safe, not made not-unsafe by inspection-and-correction.
And it implies measuring and sharing intended and actual outcomes not  just compliance with policies and rates of failure to meet arbitrary and conflicting targets.
So if that is all possible and all that is required then why are we not doing it?
Simple. We never learned how. We never knew it is possible.