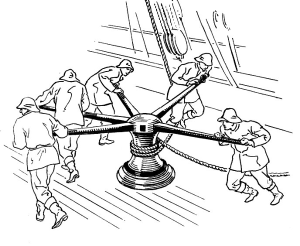 A capstan is a simple machine for combining the effort of many people and enabling them to achieve more than any of them could do alone.
The word appears to have come into English from the Portuguese and Spanish sailors at around the time of the Crusades.
Each sailor works independently of the others. There is no requirement them to be equally strong because the capstan will combine their efforts.  And the capstan also serves as a feedback loop because everyone can sense when someone else pushes harder or slackens off.  It is an example of simple, efficient, effective, elegant design.
---
In the world of improvement we also need simple, efficient, effective and elegant ways to combine the efforts of many in achieving a common purpose.  Such as raising the standards of excellence and weighing the anchors of resistance.
In health care improvement we have many simultaneous constraints and we have many stakeholders with specific perspectives and special expertise.
And if we are not careful they will tend to pull only in their preferred direction … like a multi-way tug-o-war.  The result?  No progress and exhausted protagonists.
There are those focused on improving productivity – Team Finance.
There are those focused on improving delivery – Team Operations.
There are those focused on improving safety – Team Governance.
And we are all tasked with improving quality – Team Everyone.
So we need a synergy machine that works like a capstan-of-old, and here is one design.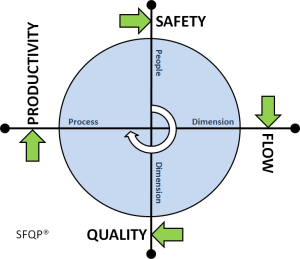 It has four poles and it always turns in a clockwise direction, so the direction of push is clear.
And when all the protagonists push in the same direction, they will get their own 'win' and also assist the others to make progress.
This is how the sails of success are hoisted to catch the wind of change; and how the anchors of anxiety are heaved free of the rocks of fear; and how the bureaucratic bilge is pumped overboard to lighten our load and improve our speed and agility.
And the more hands on the capstan the quicker we will achieve our common goal.
Collective excellence.