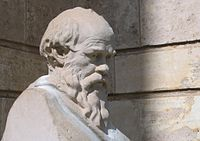 One of the challenges involved in learning the science of improvement, is to be able to examine our own beliefs.
We need to do that to identify the invalid assumptions that lead us to make poor decisions, and to act in ways that push us off the path to our intended outcome.
Over two thousand years ago, a Greek philosopher developed a way of exposing invalid assumptions.  He was called Socrates.
The Socratic method involves a series of questions that are posed to help a person or group to determine their underlying beliefs and the extent of their knowledge.  It is a way to develop better hypotheses by steadily identifying and eliminating those that lead to contradictions.
Socrates designed his method to force one to examine one's own beliefs and the validity of such beliefs.
---
That skill is as valuable today as it was then, and is especially valuable when we explore complex subjects,  such as improving the performance of our health and social care system.
Our current approach is called reactive improvement – and we are reacting to failure.
Reactive improvement zealots seem obsessed with getting away from failure, disappointment, frustration, fear, waste, variation, errors, cost etc. in the belief that what remains after the dross has been removed is the good stuff. The golden nuggets.
And there is nothing wrong with that.
It has a couple of downsides though:
Removing dross leaves holes, that all too easily fill up with different dross!
Reactive improvement needs a big enough problem to drive it.  A crisis!
The implication is that reactive improvement grinds to a halt as the pressure is relieved and as it becomes mired in a different form of bureaucratic dross … the Quality Control Inspectorate!
No wonder we feel as if we are trapped in a perpetual state of chronic and chaotic mediocrity.
---
Creative improvement is, as the name suggests, focused on creating something that we want in the future.  Something like a health and social care system that is safe, calm, fit-4-purpose, and affordable.
Creative improvement does not need a problem to get started. A compelling vision and a choice to make-it-so is enough.
Creative improvement does not fizzle out as soon as we improve… because our future vision is always there to pull us forward.  And the more we practice creative improvement, the better we get, the more progress we make, and the stronger the pull becomes.
---
The main thing that blocks us from using creative improvement are our invalid, unconscious beliefs and assumptions about what is preventing us achieving our vision now.
So we need a way to examine our beliefs and assumptions in a disciplined and robust way, and that is the legacy that Socrates left us.
---
For more posts like this please vote here.
For more information please subscribe here.