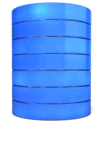 It has been a busy week.
And a common theme has cropped up which I have attempted to capture in the diagram below.
It relates to how the NHS measures itself and how it "drives" improvement.
The measures are called "failure metrics" – mortality, infections, pressure sores, waiting time breaches, falls, complaints, budget overspends.  The list is long.
The data for a specific trust are compared with an arbitrary minimum acceptable standard to decide where the organisation is on the Red-Amber-Green scale.
If we are in the red zone on the RAG chart … we get a kick.  If not we don't.
The fear of being bullied and beaten raises the emotional temperature and the internal pressure … which drives movement to get away from the pain.  A nematode worm will behave this way. They are not stupid either.
As as we approach the target line our RAG indicator turns "amber" … this is the "not statistically significant zone" … and now the stick is being waggled, ready in case the light goes red again.
So we muster our reserves of emotional energy and we PUSH until our RAG chart light goes green … but then we have to hold it there … which is exhausting.  One pain is replaced by another.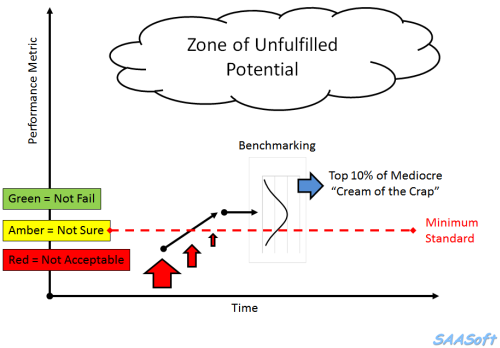 The next step is for the population of NHS nematodes to be compared with each other … they must be "bench-marked", and some are doing better than others … as we might expect. We have done our "sadistics" training courses.
The bottom 5% or 10% line is used to set the "arbitrary minimum standard target" … and the top 10% are feted at national award ceremonies … and feast on the envy of the other 90 or 95% of "losers".
The Cream of the Crop now have a big tick in their mission statement objectives box "To be in the Top 10% of Trusts in the UK".  Hip hip huzzah.
And what has this system design actually achieved? The Cream of the Crap.
Oops!
---
It is said that every system is perfectly designed to deliver what it delivers.
And a system that has been designed to only use failure and fear to push improvement can only ever achieve chronic mediocrity – either chaotic mediocrity or complacent mediocrity.
So, if we want to tap into the vast zone of unfulfilled potential, and if we want to escape the perpetual pain of the Cream of the Crap Trap … we need a better system design.
And maybe we might need a splash of humility and some system engineers to help us do that.
This week I met some at the Royal Academy of Engineering in London, and it felt like finding a candle of hope amidst the darkness of despair.
I said it had been a busy week!