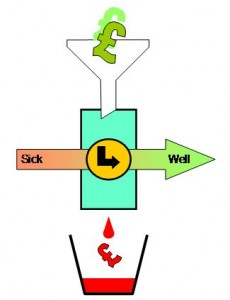 It is often assumed that efficiency and productivity are the same thing – and this assumption leads to the conclusion that if we use our resources more efficiently then we will automatically be more productive. This is incorrect. The definition of productivity is the ratio of what we expect to get out divided by what we put in – and the important caveat to remember is that only the output which meets expectation is counted – only output that passes the required quality specification.
This caveat has two important implications:
1. Not all activity contributes to productivity. Failures do not.
2. To measure productivity we must define a quality specification.
Efficiency is how resources are used and is often presented as metric called utilisation – the ratio of how much time a resource was used to how much time a resource was available.  So, utilisation includes time spent by resources detecting and correcting avoidable errors.
Increasing utilisation does not always imply increasing productivity: It is possible to become more efficient and less productive by making, checking, detecting and fixing more errors.
For example, if we make more mistakes we will have more output that fails to meet the expected quality, our customers complain and productivity has gone down. Our standard reaction to this situation is to put pressure on ourselves to do more checking and to correct the erros we find – which implies that our utilisation has gone up but our productivity has remained down: we are doing more work to achieve the same outcome.
However, if we remove the cause of the mistakes then more output will meet the quality specification and productivity will go up (better outcome with same resources); and we also have have less re-work to do so utilisation goes down which means productivity goes up even further (remember: productivity = success out divided by effort in). Fixing the root case of errors delivers a double-productivity-improvement.
In the UK we have become a victim of our own success – we have a population that is living longer (hurray) and that will present a greater demand for medical care in the future – however the resources that are available to provide healthcare cannot increase at the same pace (boo) – so we have a problem looming that is not going to go away just by ignoring it. Our healthcare system needs to become more productive. It needs to deliver more care with the same cash – and that implies three requirements:
1. We need to specify our expectation of required quality.
2. We need to measure productivity so that we can measure improvement over time.
3. We need to diagnose the root-causes of errors rather than just treat their effects.
Improved productivity requires improved quality and lower costs – which is good because we want both!