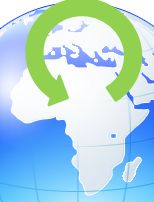 Africa is a fascinating place.  According to a documentary that I saw last year we are ALL descended from a small tribe who escaped from North East Africa about 90,000 years ago. Our DNA carries clues to the story of our journey and it shows that modern man (Africans, Europeans, Asians, Chinese, Japanese, Australians, Americans, Russians etc) – all come from a common stock. It is salutory to reflect how short this time scale is, how successful this tribe has been in replacing all the other branches of the human evolutionary tree, and how the genetic differences between colours and creeds are almost insignificant.  All the evolution that has happened in the last 90,000 years that has transformed the world and the way we live is learned behaviour. This means that, unlike our genes, it is possible to turn the clock backwards 90,000 years in just one generation. To avoid this we need to observe how the descendents of the original tribe learned to do many new things – forced by their new surroundings to adapt or perish.  This is essence of Improvement Science – changing context continuously creates new challenges – from which we can learn, adapt and flourish.
To someone born in rural England a mobile phone appears to be a relatively small step on a relentless technological evolution – to someone born in rural Africa it is a radical and world-changing paradigm shift – one that has already changed their lives.  In some parts of Africa money is now managed using mobile phones and this holds the promise of bypassing the endemic bureaucratic and corrupt practices that so often strangle the greens shoots of innovation and improvement. Information and communication is the lifeblood of improvement and to introduce a communication technology that is reliable, effective, and affordable into a vast potential for cultural innovation is rather like introducing a match to the touchpaper of a firework. Once the fuse has started to fizz there is no going back. The name given to this destabilising phenomenon is "disruptive innovation" and fortunately it can work for the good of all – so long as we steer it in a win-win-win direction. And that is a big challenge because our history suggests that we find exploitation easier than evolution and exploitation always leads to lose-lose-lose outcomes.
So while our global tribe may have learned enough to create a global phone system we still have much to learn about how to create a global social system.