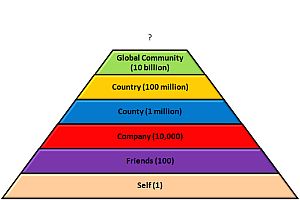 I love history – not the dry boring history of learning lists of dates – the inspiring history of how leaps in understanding happen after decades of apparently fruitless search.  One of the patterns that stands out for me in recent history is how the growth of the human population has mirrored the changes in our understanding of the Universe.  This pattern struck me as curious – given that this has happened only in the last 10,000 years – and it cannot be genetic evolution because the timescale is to short. So what has fuelled this population growth? On further investigation I discovered that the population growth is exponential rather than linear – and very recent – within the last 1000 years.  Exponential growth is a characteristic feature of a system that has a positive feedback loop in it that is not balanced by an equal and opposite negative feedback loop. So, what is being fed back into the system that is creating this unbalanced behaviour? My conclusion so far is "collective improvement in understanding".
However, exponential growth has a dark side – it is not sustainable. At some point a negative feedback loop will exert itself – and there are two extremes to how fast this can happen: gradual or sudden. Sudden negative feedback is a shock is the one to avoid because it is usually followed by a dramatic reversal of growth which if catastrophic enough is fatal to the system.  When it is less sudden and less severe it can lead into repeating cycles  of growth and decline – boom and bust – which is just a more painful path to the same end.  This somewhat disquieting conclusion led me to conduct the thought experiment that is illustrated by the diagram: If our growth is fuelled by our ability to learn, to use and to maintain our collective knowledge what changes in how we do this must have happened over the last 1000 years?  Biologically we are social animals and using our genetic inheritance we seem only able to maintain about 100 active relationships – which explains the natural size of family groups where face-to-face communication is paramount.  To support a stable group that is larger than 100 we must have developed learned behaviours and social structures. History tells us that we created communities by differentiating into specialised functions and to be stable these were cooperative rather than competitive and the natural multiplier seems to be about 100.  A community with more than 10,000 people is difficult to sustain with an ad hoc power structure with a powerful leader and we develop collective "rules" and a more democratic design – which fuels another 100 fold expansion to 1 million – the order of magnitide of a country or city. Multiply by 100 again and we get the size that is typical of a country and the social structures required to achieve stablity on this scale are different again – we needed to develop a way of actively seeking new knowledge, continuously re-writing the rule books, and industrialising our knowkedge. This has only happened over the last 300 years.  The next multipler takes us to Ten Billion – the order of magnitude of the current global population – and it is at this stage that  our current systems seem to be struggling again.
From this geometric perspective we appear to be approaching a natural human system barrier that our current knowledge management methods seem inadequate to dismantle – and if we press on in denial then we face the prospect of a sudden and catastrophic change – for the worse. Regression to a bygone age would have the same effect because those systems are not designed to suport the global economy.
So, what would have to change in the way we manage our collective knowledge that would avoid a Big Crunch and would steer us to a stable and sustainable future?