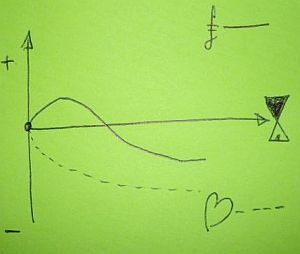 If you feel miserable at work and do not know what to do then then take heart because you could be suffering from a treatable organisational disease called CRAP (cynically resistant arrogant pessimism).
To achieve a healthier work-life then it is useful to understand the root cause of CRAP and the rationale of how to diagnose and treat it.
Organisations have three interdependent dimensions of performance: value, time and money.  All organisations require both the people and the processes to be working in synergy to reliably deliver value-for-money over time.  To create a productive system it is necessary to understand the relationships between  value, money and time. Money is easier because it is tangible and durable; value is harder because it is intangible and transient. This means that the focus of attention is usually on the money – and it is often assumed that if the money is OK then the value must be OK too.  This assumption is incorrect.
Value and money are interdependent but have different "rates of change"  and can operate in different "directions".  A common example is when a dip in financial performance triggers an urgent "drive" to improve the "bottom line".  Reactive revenue generation and cost cutting results in a small, quick, and tangible improvement on the money dimension but at the same time sets off a large, slow, and intangible deterioration on the value dimension.  Money, time and  value are interdependent and the inevitable outcome is a later and larger deterioration in the money – as illustrated in the doodle. If only money is measured the deteriorating value is not detected, and by the time the money starts to falter the momentum of the falling value is so great that even heroic efforts to recover are futile. As the money starts to fall the value falls even further and even faster – the lose-lose-lose spiral of organisational failure is now underway.
People who demonstrate in their attitude and behaviour that they are miserable at work provide the cardinal sign of falling system value. A miserable, sceptical and cynical employee poisons the emotional atmosphere for everyone around them. Misery is both defective and infective.  The primary cause of a miserable job is the behaviour exhibited by people in positions of authority – and the more the focus is only on money the more misery their behaviour generates.
Fortunately there is an antidote; a way to break out of the vicious tail spin – measure both value and money, focus on improving value and observe the positive effect on the money.  The critical behaviour is to actively test the emotional temperature and to take action to keep it moving in a positive direction.  "The Three Signs of a Miserable Job" by Patrick Lencioni tells a story of how an experienced executive learns that the three things a successful managerial leader must do to achieve system health are:
1) ensure employees know their unique place, role and value in the whole system;
2) ensure employees can consciously connect their work with a worthwhile system goal; and
3) ensure employees can objectively measure how they are doing.
Miserable jobs are those where the people feel anonymous, where people feel their work is valueless, and where people feel that they get no feedback from their seniors, peers or juniors. And it does not matter if it is the cleaner or the chief executive – everyone needs a role, a goal and to know all their interdependencies.
We do not have to endure a Miserable Job – we all have the power to transform it into Worthwhile Work.