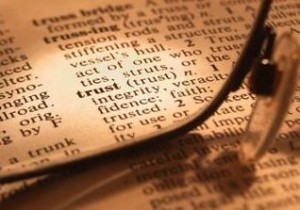 The issue of trust has been a recurring theme again this week – and it has appeared in many guises.  In one situation it was a case of distrust – I observed an overt display of suspicious, sceptical, and cynical behaviour. In another situation it was a case of mistrust – a misplaced confidence in my own intuition. My illogical and irrational heart said one thing but when my mind worked through the problem logically and rationally my intuition was proved incorrect. In another it was a case of rewarded-trust: positive feedback that showed a respectful challenge had resulted in a win-win-win outcome. And in yet another a case of extended-trust: an expression of delighted surprise from someone whose default position was to distrust.
Improvement Science rests on two Foundation stones Trust and Capability. First to trust oneself to have the confidence and humility to challenge, to learn, to change, to improve, to celebrate and to share; second to extend trust to others with a clear explanation of the consequences of betraying that trust; and third in building collective trust by having the courage to challenge trust-eroding behaviour.
At heart we are all curious, friendly, social animals – our natural desire is to want to trust. Distrust is a learned behaviour that, ironically, is the result of the instinctive trust and respect that, as children, we have for our parents.  We are taught to distrust by observing and copying distrustful and disrepectful behaviour by our role models. So with this insight we gain access to an antidote to the emotional poison of distrust: our innate child-like curiosity, desire to explore, appetite for fun, and thirst for knowledge and meaning. To dissolve distrust we only need to reconnect to our own inner child: One half of the foundation of Improvement Science.